Chinese
Curriculum features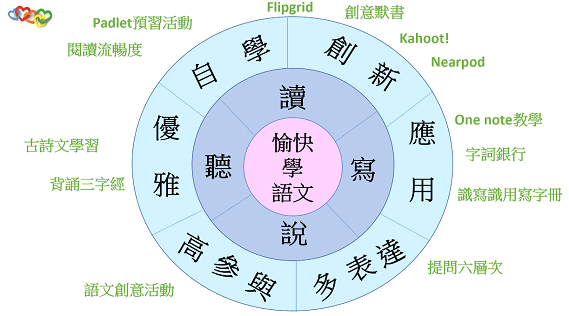 1. Guided by principles of self-learning, application and using elegant language, we nurture students' skills in listening, speaking, reading and writing.
Using self-designed schoolwork, with "application" as the learning focus, we provide students with opportunities to "apply what they have learnt"
To develop students' self-learning abilities, we promote lesson preparation electronically. Using Padlet, students could ask and answer questions, search for information, share and review ideas with their peers. With Flipgrid, students could make videos and share ideas.
The Chinese culture is broad and profound. Our sages have left behind elegant words that inspire. With ancient poetry and essays, we help students cultivate their aesthetic sense and temperament.
2. Our learning approach is for students to develop generic skills through creation, active participation and expression.
With creative dictation, we utilise the traditional framework to assess and create.
Using e-learning platforms, we enhance students' participation in class.
3. In conjunction with our school's "five hearts education", we use "child's heart" in designing games for teaching. Students are inspired to actively participate in learning and creation. We aim for "joyful language learning"
Through interdisciplinary collaborations, we combine sport and art organically to create a "joyful language learning" environment. Our interdisciplinary subject activities include drawing competitions, ancient characters' picture stories, creative storytelling, song & dance and more.
We use Cantonese as the first Chinese language of instruction. This is what students use every day and are most familiar with. When communicating with teachers and classmates in Cantonese, students learn more effectively.